Star Wars Triple Review: Warum Episode 8 der beste Film der Trilogie ist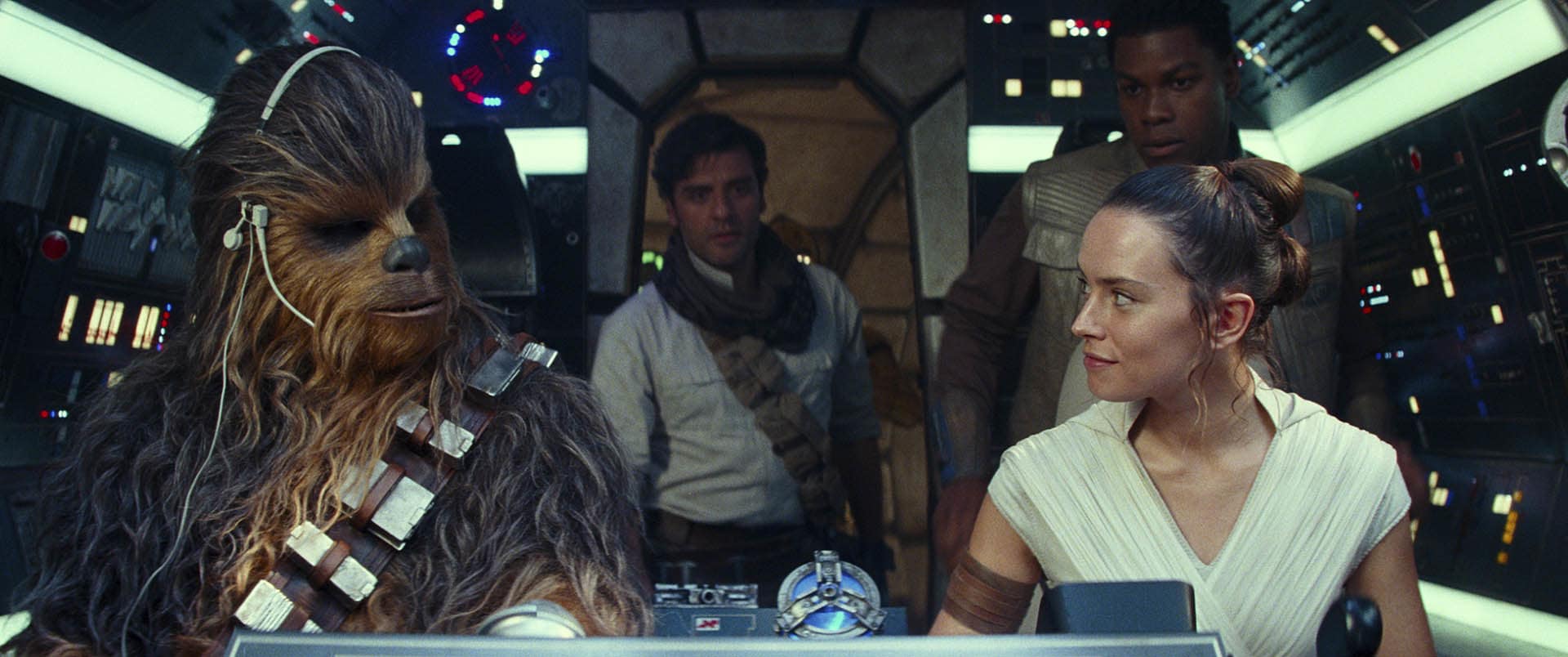 Ja ich weiß, eigentlich soll das ein Rollenspielblog sein. Aber zum einen kribbelt mich dieses Review in den Fingern, zum anderen sind die größten Star Wars-Fans nicht selten auch Rollenspieler. Ganz davon abgesehen, dass World Building und Quest-Design auch wichtige Bestandteile einer Space Opera sind. Kürzlich habe ich mir alle drei Teile der neuen Trilogie im Kino als Triple Feature angeschaut. Bereits Tage zuvor hatte ich zur Sicherheit schon Star Wars: Der Aufstieg Skywalkers angeschaut, um mir die Spoilergefahr im Netz zu ersparen.
Ich liebe Star Wars schon seit Ewigkeiten, bin aber keinesfalls ein Ultra. Um gleich die ersten Leser zu vertreiben: Jar Jar Binks finde ich ganz lustig und die Ewoks dagegen absolut unnötig. Aber das ist eher Gegenstand für andere Diskussionen. Stattdessen soll es hier um die neue Trilogie, den Episoden 7, 8 und 9 gehen und wie ich sie nun aus dem Gesamtbild heraus einordne.
Spoiler-Warnung: Ich gehe hier explizit auf Inhalte der Filme ein. Wer die Filme noch nicht gesehen hat, sollte mit dem Lesen noch etwas warten.
Star Wars Episode 7: Das Erwachen der Macht
Etwas über vier Jahre ist es her, dass Star Wars Episode 7: Das Erwachen der Macht die Skywalker-Saga nach langer Zeit weiterführte. Und ich erinnere mich noch allzu gut an die Premiere des Filmes. Selten habe ich eine derartige Stimmung im Kino erlebt. Diese Mischung aus Begeisterung, Hoffnung und Befürchtungen war ungefähr so spürbar, wie die Macht für einen Jedi.
Die Übernahme des Franchise durch Disney und das radikale Ausmisten des Kanons sorgte nicht zu Unrecht für Unmut unter den Fans. Auch mir missfällt, wie die Tiefe der Star Wars Lore an dieser Stelle mit Füßen getreten wurde. Star Wars Episode 7: Das Erwachen der Macht war für mich allerdings alles andere als der Untergang des Franchise, sondern eher eine wohltuende Abwechslung zum heutigen Kino.
Auch wenn ich die Marvel-Filme an sich unterhaltsam finde, haben sie mir Kino ein Stück weit kaputt gemacht, da sie nicht nur das Kino dominieren, sondern auch für mich ganz unangenehme Trends in Sachen CGI-Übersättigung oder Pulsierendem Brummen und allgemeiner Soundkulisse gesetzt haben. Aber auch allgemein schaue ich mittlerweile kaum noch Filme, sondern viel lieber Serien.
Star Wars Episode 7: Das Erwachen der Macht ist durch die Bank absolut Old School. Man setzte vorwiegend auf echte Kulissen und handgemachte Effekte für Explosionen und Co. Sogar die Überblendungen der Szenen waren ganz die alte Schule und damit ein schöner Gegenpol zum hektischen Schnitt des Hollywood-Einerlei. Lediglich die Figur des obersten Anführer Snoke biss sich stark mit dem sonstigen Look, da sich der CGI-Einsatz umso deutlicher zeigte. Das stört mich lustigerweise weniger bei Harry Potter, bzw. Phantastische Tierwesen, weil dort die CGI-Kreaturen das zauberhafte darstellen und sich ihre offensichtliche CGI-Darstellung dabei nicht ganz so brutal beißt.
Teilweise etwas zu viel Nostalgie.
Leider setzte Star Wars Episode 7: Das Erwachen der Macht teils zu stark auf alte Tugenden und geriet zum Abziehbildchen des Urahnen. Ein neuer Todesstern, ein neues Imperium, ein weitere Rebellion und auch die Heldenriege erfindet das Star Wars-Rad nicht gerade neu. Sogar das Design der Sturmtruppen und Raumschiffe ähnelt sich besorgniserregend. Dazu standen die Charaktere der ersten Filme noch stark im Vordergrund.
Mit Daisy Ridley als Rey hatten die Filme allerdings eine sehr gute Besetzung der Hauptrolle gefunden. Ein weiblicher Hauptcharakter der nicht plakativ weiblich gewählt wurde um aktuelle Trends zu befriedigen, sondern auch glaubwürdig war. Ob beim Rennen, Klettern oder im Kampf: Man nimmt der Darstellerin die Athletik ab. Auf der anderen Seite ist Rey eine Alleskönnerin. Sie kann effektiv alles was ihre Gefährten auch können.
Damit gerät Finn nicht selten etwas in den Schatten und hat dagegen sehr wohl einen leicht plakativen Charme. Bei Mace Windu oder Lando Calrissian hätte ich nie darüber nachgedacht, dass es darum ginge, einfach "einen dunklen Schauspieler" dabei zu haben – bei Star Wars Episode 7: Das Erwachen der Macht hatte ich leider das Gefühl. Außerdem überzeugte er weder als Charakter mit übermäßiger Kompetenz noch mit schauspielerischer Glanzleistung. Man nimmt ihm überhaupt nicht ab, dass er auch nur einen Monat in einem militärisch gedrillten System lebte.
Trotzdem fand ich das nicht all zu schlimm. Der Film war nämlich nicht nur Nostalgie pur, sondern dabei auch extrem unterhaltsam. Mit dem Tod Han Solos gegen Ende und der Begegnung mit Luke Skywalker wurden zudem alle Weichen gestellt, dass die Jugend fortan übernehmen kann. Ich war überzeugt, dass mit dem Ende des ersten Filmes die neue Trilogie an Eigenständigkeit gewinnen würde. Dann auch mit Poe Dameron als dritten Hauptcharakter.
Star Wars Episode 8: Die letzten Jedi
Ließ sich der erste Film der Trilogie noch sehr einfach mit seinem Fokus auf Nostalgie einordnen, macht es einem Star Wars Episode 8: Die letzten Jedi schon deutlich schwerer. Mehr noch als der erste Film der Reihe, polarisierte er und war für viele der endgültige Sargnagel der Saga. Wie zu erwarten war, hat es der Marke Star Wars jedoch nicht groß geschadet. Für mich ist er auch im Triple-Marathon der spannendste Teil der Reihe gewesen.
Mit der Darstellung eines gebrochenen Luke Skywalkers hat sich Regisseur Ryan Johnson zu einer Persona non grata vieler Star Wars Fans entwickelt. Dabei gefällt mir diese Entwicklung ungemein gut. Unter dem Hintergrund des "Versagens" bei Kylo Ren, der obendrein noch Sohn von Han und Leia ist, empfinde ich die Entwicklung deutlich nachvollziehbarer, als der Bruch, der in Anakins Charakter geschieht. Mal ehrlich: Von "ich bekämpfe das Böse" zu "ich schlachte unschuldige Kinder ab" war das echt zu schnell. Palpatine hin oder her.
Auch das Luke sein Schwert so leichtfertig weggeworfen hat, war zwar bewusst auf Humor getrimmt, aber für mich völlig im Charakter. Da kann Mark Hamill selbst gegen seine Charakterentwicklung wettern wie er mag – mir ist das lieber, als wäre er unerschütterlich geblieben.
Einzig, dass der Humor oftmals zu gewollt kindgerecht wirkte und anfangs vor allem auf völlig überzuckert dargestellten Porgs ging, stieß mir sauer auf. Brauche ich genau so wenig, wie die knuddeligen, aber für mich nicht überlebensfähigen Ewoks. Und ja: Jar Jar Binks ist mir auch an dieser Stelle lieber. Dass mir die großen Augen trotzdem auch beim vierten Durchlauf Schmunzler entlockt haben, muss ich leider dennoch zugeben.
Als Serie hätte es besser funktioniert
Star Wars Episode 8: Die letzten Jedi war jedoch auch der Moment, wo ich mir schon beim ersten Besuch im Kino dachte, dass es besser als Serie umgesetzt worden wäre. Der Film hat nämlich enorm viele Handlungsstränge die parallel laufen und an jeder Ecke eine neue Wende wartet – mal mehr, mal weniger vorhersehbar.
Dazu kommt eine überraschende Vielzahl an wichtigen Charakteren, welche die Riege um Rey, Finn, Poe, Kylo und unseren Lieblingen der alten Trilogie erweitern. Da wäre zum einen Rose Tico, die Finn begleitet und zwar nicht unbedingt die Fähigkeiten, aber umso mehr das Herz einer Heldin besitzt. Auch der zwielichtige Hacker DJ ist eine angenehme Abwechslung, da er sich weder gut noch böse zuordnen lässt. Vize Admiral Holdo sorgt zudem für einen "guten" Charakter, der scheinbar im Weg steht, aber doch irgendwie im Recht ist.
Allgemein spielt der Film deutlich mehr mit den Grautönen auf beiden Seiten und schließt sich damit hervorragend an Rogue One an, wo erstmals das straffe Gut-Böse-Korsett in den Filmen aufgebrochen wurde – In der Clone Wars-Serie brachte man zuvor auch schon erfolgreich neue Nuancen ein.
Diese interessanten Charaktere und der verzweigte rote Faden hätten locker eine 10 Folgen-Staffel einer Serie füllen können und hätten dabei Charaktere noch intensiver ausarbeiten können. Insgesamt hinterlässt der Film dennoch den komplettesten Gesamteindruck der Trilogie für mich. Und ich bin schon sehr gespannt, was Ryan Johnson auf die Leinwand zaubert, sollte er tatsächlich eine komplette Reihe abseits der Skywalker-Saga bekommen.
Da störte es mich auch nicht, dass gerade die Kampfszene gegen Snoke ihre eindeutigen Schwächen hat. Nach Star Wars Episode 8: Die letzten Jedi gab es übrigens ein schönes Video zur Jar Jar Binks-Theorie, in dem auch der leichte Kampf gegen Snoke Bezug findet. Mittlerweile wurde diese Theorie zugegeben durch den letzten Film widerlegt.
Star Wars Episode 9: Der Aufstieg Skywalkers
Am schwersten hat es mir der neueste Eintrag im Star Wars Kanon gemacht. Star Wars Episode 9: Der Aufstieg Skywalkers sorgte in seinen besten Moment bei mir für Pipi in den Augen. In seinen schlechtesten Momenten war der Film hingegen eine Karikatur seiner selbst.
Fangen wir gleich mal mit einem großen Minuspunkt an: J. J. Abrams bleibt sich nicht einmal selbst treu. Alles was ich am "Back to the roots"-Feeling in Star Wars Episode 7: Das Erwachen der Macht noch gelobt habe, wird in Star Wars Episode 9: Der Aufstieg Skywalkers nicht mehr umgesetzt. Das Tempo wirkt extrem gehetzt, ruhige Szenenübergänge gehören der Vergangenheit an und CGI trieft nun aus allen Poren – auch ohne den obersten Anführer Snoke.
Würde nicht das Trademark Star Wars drauf kleben, hätte ich vom Look eher das Gefühl in einem Marvel-Film zu sein. Viel CGI, eine große unpersönliche Übermacht, ein Oberbösewicht der ziemlich konstruiert wirkt und das ganze noch übermäßig aufgeladen mit geradezu kitschigem Gut-Böse-Klischee.
Trotzdem hätte auch Star Wars Episode 9: Der Aufstieg Skywalkers riesiges Potential als Serie gehabt. Es ist nämlich so ein wenig wie bei den letzten beiden Game of Thrones-Staffeln. Der Plot besteht vorwiegend aus Stationen, die irgendwie noch abgehakt werden müssen, um zum finalen Akt zu kommen. Und das ist auf die Laufzeit eines einzelnen Filmes dann doch deutlich zu viel.
Im Rollenspiel wären es vor allem einfallslose FedEx-Quests. Gehe nach X, suche nach Y, das bringt dich nach Z. Dazu gibt es denkbar einfallslose Plot Devices und die Macht als Begründung für alles, für das die Zeit sonst nicht reichte. In einer Serien-Staffel hätte man alles viel sinnvoller ausarbeiten können und den Charakteren viel mehr Tiefgang verleihen können. Das bekam Episode 8 zumindest deutlich besser hin.
Da kamen mir die Tränen
Wie eingangs erwähnt, sorgte Star Wars Episode 9: Der Aufstieg Skywalkers bei mir für Tränen in zweierlei Hinsicht. Der Tod Leias hatte mich wirklich berührt, vor allem natürlich in Hinblick auf den Tod unserer Prinzessin Carrie Fisher vor gut drei Jahren. Auch die Nutzung bereits gedrehtem Materials wurde hier wirklich geschickt gemacht.
Auch als am Ende eine riesige unorganisierte Flotte zur Hilfe kommt hat mein Herz richtig aufgehen lassen, da es einfach stark inszeniert war. Ein unerwarteter Tränendrücker war auch C-3PO, der mit seiner humorvollen, aber aufopferungsbereiten Szene ("noch einmal meine Freunde sehen") für einen erhöhten Pegelstand in meinen Augen sorgte.
Auch der Tod Kylo Rens / die Wiedergeburt Bens war echt solide inszeniert und ich mochte auch den kleinen, gut untergebrachten Gastauftritt Harrison Fords in seiner Paraderolle. Damit schloss man Kylos und Reys Verbindung wirklich gut ab. Auch die Nutzung der Verbindung im Kampf, damit Kylo das Lichtschwert bekam war ein echt cooler Moment.
Ein letztes Highlight war für mich die Schlussszene, als Rey zu dem Ort ging, an dem Lukes Geschichte dereinst begann. Noch einmal die alte Feuchtfarm zu sehen war nochmal ein emotionaler Leckerbissen und passte auch super zur Andeutung Tatooines bei Bens Dahinscheiden.
Was mir außerdem gefiel war die erste Szene im Millennium Falken, der deutlich zeigte, wie eingespielt die Crew ist. Mittlerweile sind sie ein eingespieltes Team, wovon vor allem Finn deutlich profitiert. Endlich wirkt er wie ein effektives Crewmitglied. Die Chemie mit Poe stimmt zudem auch.
Auch das sorgte für Tränen
Star Wars Episode 9: Der Aufstieg Skywalkers sorgte innerlich aber auch für ganz andere Tränen. Gleich schon in Kylo Rens erstem Auftritt musste ich den Kopf schütteln. Mir ist klar, dass sein Lichtschwert an ein tatsächliches Schwert angelehnt ist, aber die Kampfmanöver machten absolut keinen Sinn, außer man möchte sich selbst verstümmeln.
Auch sonst waren für mich die Lichtschwertszenen die schwächsten in der gesamten Star Wars-Reihe. In der alten Trilogie waren die Lichtschwerter noch als schwere Waffen interpretiert und der Kampf entsprechend des Kampfes mit massiven Zweihand-Waffen orientiert. Aber sie sorgten trotz aller Trägheit für Spannung. Die Kämpfe in Star Wars Episode 1 waren für mich jedoch immer noch die intensivsten. Auch heute noch habe ich beim Finale gegen Darth Maul erhöhten Puls, obwohl ich genau weiß, was passiert. Die Kämpfe in Star Wars Episode 9: Der Aufstieg Skywalkers lösen jedoch nichts in mir aus. Völlig belanglos inszeniert.
Mehr noch als in Star Wars Episode 7: Das Erwachen der Macht, stören mich nun aber auch die alten Charaktere – allen voran leider Lando Calrissian. Dieser hat überraschend viel Screentime und wirkt einfach nur wie ein ehemals erfolgreicher Schauspieler, der auf einer Convention nochmal Stolz wie Oscar seine alte Rolle mimt.
Am schlimmsten trifft mich jedoch die Abrechnung mit Ryan Johnson. Mark Hamills letzten großen Star Wars Moment wertet Abrams ab, indem er sehr bewusst Kritik an der Johnson-Interpretation übt. Ich kann Luke Skywalker in dem Moment nicht ernst nehmen. Während er trotz aller Abneigung gegen die Interpretation in Episode 8 nachvollziehbar wirkt, wirkt er hier nur wie eine Karikatur seiner selbst.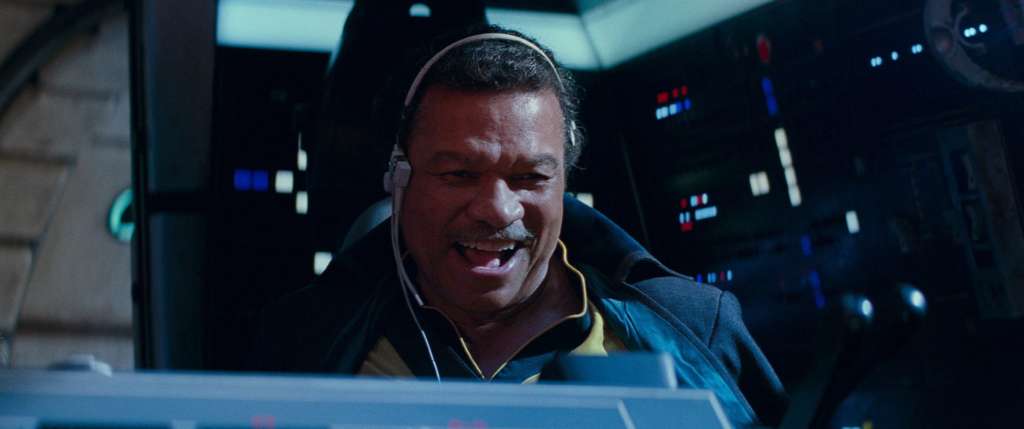 Fazit: Wäre es doch eine Serie geworden
Nach dem Ende der Trilogie bin ich immer noch ein großer Star Wars-Fan. Ich habe es auch nicht bereut, Star Wars Episode 9: Der Aufstieg Skywalkers gleich zweimal gesehen zu haben, abschließend als Gesamt-Trilogie. Ich habe es sogar genossen, die Filme nochmal direkt aneinander im Kino zu erleben – trotz aller Ungereimtheiten.
Disney hat mit dem Aufräumen des Kanons übertrieben, auch wenn ich das Bemühen um eine aufgeräumte Basis für kommende Produktionen durchaus verstehen kann. Für mich wird das Expanded Universe weiterhin der Stand der Dinge bleiben und ich möchte irgendwann auch noch mit Büchern einiges Nachholen.
Schade ist es nur, dass man in sich nicht sonderlich konsistent bei den Filmen war. Unstimmigkeiten in der Regie sollten nicht in den Filmen selbst ausgefochten werden. Auch hätte man gut daran getan, den Style von Episode 7 durchgehend für die Trilogie zu nutzen.
Am liebsten hätte ich die Filme jedoch als Serie gesehen. Vor allem die letzten beiden Teile hätten mehr als genug Material gehabt, um jeweils eine Staffel zu füllen. Vor allem wenn man noch zusätzlich Ereignisse rund um die Rebellion hinzugefügt hätte. Dann wäre selbst aus Star Wars Episode 7: Das Erwachen der Macht eine wunderbare Auftakt-Staffel geworden.
Ich bin jedenfalls weiterhin Star Wars-Fan und freue mich schon auf den Deutschland Release von The Mandalorian. Auch auf neue Filme freue ich mich, da für mich die Skywalker-Saga schon nach Episode 1-3 hätte beendet werden können. Sich von den Skywalkers loszulösen lässt Raum für ganz neue Geschichten in einem Universum, das einfach so viel mehr zu bieten hat. Von den neuen Filmen bleibt aber Star Wars Episode 8: Die letzten Jedi mein Favorit. Die Abkehr von klarem Gut-Böse-Denken und die deutlich abwechslungsreicheren Plots ließen mich gerne über nervige Begleiterscheinungen wie die Porgs hinwegsehen.
---
Images by Disney / via Wookipedia